Welcome From Barbara Altemus!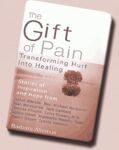 Aloha and welcome to my website!
Many of you know me from my book, The Gift of Pain, Transforming Hurt Into Healing, and the workshops I have given. Thank you for checking in on my website so we can stay in touch. I would like to introduce myself to the people I have not already met.
My life's work is focused on helping to create inner and global peace through the creative and healing arts. On this path, I have taught in Los Angeles inner city schools, and at Antioch University and Pacific Oaks College.
I have spent decades working closely with Native American spiritual leaders, civil rights leaders and global peacemakers, giving me valuable experience in learning how to help people to achieve wellness.
I hold two Masters degrees, one in Psychology and the other in Latin studies. I have lived in Hawaii for 20 years utilizing my training and experience as a therapist to assist people in healing and transforming their pain.
I am currently living in Topanga Canyon, California as the visionary, producer and writer of the feature documentary, THE CALLING: Heal Ourselves, Heal Our Planet, directed by Oscar nominated filmmaker William Gazecki.
As we learn how to help ourselves, we become capable of making healthier choices that care for, and not destroy, our earth and all of natural creation. This is our gift to our children and the future generations. It is my hope that in visiting this site, you will find inspiration and support in reaching our common goals.
Please feel free to sign up for the e-mail newsletter. I also give lectures, workshops, individual and family therapy, and life coaching in the U.S. and abroad.
Love and aloha,

New Dimensions Worldwide Radio Review:
"On a personal level, pain is a part of life. On a broader scale, our sense of security in the world has been shaken by catastrophic events such as the attacks of 9/11, the tsunami, and hurricane Katrina. How can we avoid burying the fear and the hurt till they harden our hearts and ferment into rage? Drawing on the teachings of Native American spirituality, the elements of nature, and the spirits of loved ones who have passed on, Barbara Altemus has found ways not only to heal from pain, but to transform the spirit in the process. She defines clear strategies for reconnecting to the earth, to our communities, and to our spirituality, so that even in the most difficult times we discover our strength, our beauty, and a greater sense of who we are. "When we're aligned with that greater intelligence-call it what you want, God, Great Mystery, Great Spirit, Buddha-and feel our connection to that greater force and to all the elements and all of life, then we're protected, and we're exactly where we need to be, doing what we need to be doing." Ms. Altemus candidly shares her own struggle to overcome betrayal and loss, and shows us how to move through pain and find our lives richer on the other side."
Justine Willis Toms, New Dimensions Worldwide Radio